Beauty & Self
Books & Music
Career
Computers
Education
Family
Food & Wine
Health & Fitness
Hobbies & Crafts
Home & Garden
Money
News & Politics
Relationships
Religion & Spirituality
Sports
Travel & Culture
TV & Movies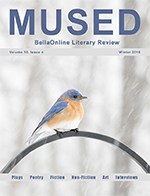 Sometimes it seems as if winter quotes make winter out to be a necessary evil which exists only for us to appreciate the subsequent warmth. Shelley: "If winter comes, can spring be far behind?" Shakespeare: "Now is the winter of our discontent made glorious summer by this sun of York." Hugo: "Laughter is the sun that drives winter from the human face."

But winter is far more than a down against which to compare the subsequent ups. Winter is a powerful, magical time. It is a season of strength. Of looking inward and finding focus. Bob Seger stated, "I write probably 80 percent of my stuff over the winter." Terri Guillemets reminds us, "The color of springtime is in the flowers; the color of winter is in the imagination." The Winter Solstice is a time to embrace the mysterious. The endless possibilities. The sense that we already have, within ourselves, boundless creativity and opportunity. We simply have to still ourselves and listen.

Winter is a powerful season. It gives us that space to look back and learn from our history. To look forward and envision what we wish to become. To be fully mindful of the present and be aware how each day has potential for us to speak out and impact the way our world proceeds. To move us toward peace, fulfillment, and an appreciation of what each of us has to offer.

Happy Winter Solstice.

Enjoy the Mused Winter Solstice 2016 Issue



Two Great Apps
Moms - Traci Falb, Editor

If you are reluctant to introduce toddlers to modern technology via an app on your phone or tablet, be assured that these two are superb! Find out more in this article.




REVIEW Amanda Fisher and the Source Crystals
SF/Fantasy Books - Evelyn Rainey, Editor

Review of the Visionary & Metaphysical Middle Reader Fantasy Amanda Fisher and the Source Crystals by Cherie Ruffo, BLISS Books, 2016




Recruiting An Exercise Buddy
Body Care - BB Lee, Editor

Working out alone is boring. This leads to abandoning a new exercise plan in the New Year.




Cleaning & Organizing the Pantry
Cleaning - Tammy Judd, Editor

Some pantry's are large and spacious while others can be cramped and tiny. No matter where your pantry falls on the size spectrum some basic cleaning and organizing can really make a difference - in time AND money!




A Sewer's Button Box
Sewing - Cheryl Ellex, Editor

From antique buttons of centuries past that possess now historical significant, to Victorian glass buttons giving a cultural perspective of that time and onto contemporary buttons of the day, the ordinary button that gives us little pause as we dress for the day holds much to think about.




Slow Cooker "Rotisserie" Chicken Recipe
Quick Cooking - Karen Hancock, Editor

No time to stop at the grocery store to pick up a rotisserie chicken? You can make one in your slow cooker. Prep takes about 10 minutes and cooking is done in 2-4 hours.


| Google+ |
E D I T O R R E C O M M E N D E D
Investing $10K in 2015


Have you received a windfall or inheritance? Confused how to manage it? Many people find the subject of investing to be complex. It doesn´t have to be. You can manage your money yourself.
Fall in Love With Your Feminine Power


This 8-week DailyOm online course incorporates meditation, energy healing, and women´s energetics work to help you heal, empower and awaken your connection to your feminine energy body. It includes print materials, video, and guided audio meditation. No prior meditation or energy work experience necessary. Embrace your full power, health, joy, and spirit!
Addicted to Stress by Debbie Mandel


A Woman´s 7 Step Program to Reclaim Joy and Spontaneity in Life (Hardcover) In this highly original program for stress reduction, stress management expert and radio personality Debbie Mandel explains that women who are constantly stressed out have forgotten the dreams of the free-spirited girl living inside them before they became somebody's wife, mother, or workplace colleague.