Beauty & Self
Books & Music
Career
Computers
Education
Family
Food & Wine
Health & Fitness
Hobbies & Crafts
Home & Garden
Money
News & Politics
Relationships
Religion & Spirituality
Sports
Travel & Culture
TV & Movies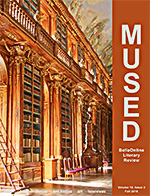 The autumn equinox, that balance point of light and dark, is closely tied to the moon. In China the Moon Festival happens around the autumn equinox, celebrating gratitude and the warmth of good friends and family. This year it was Sept 15th. Our last eclipse of 2016 was a penumbral lunar eclipse on Sept 16th. It fell in conjunction with the full harvest moon, also a symbol of thankfulness and appreciating those who care about you. The autumn equinox is a perfect time to add to those celebrations. It's a wonderful moment to treasure all we have and to share warmth with those who support us.

Autumn Equinox 2016 issue of Mused

The Dating Game Serial Killer
Crime - Vance R. Rowe, Editor

Rodney Alcala was a serial killer who once appeared on the Dating Game television show. He won the show but after the woman who picked him got to talk with him afterward, found him to be creepy and declined to go on the date. This had probably saved her life.




Dendrobium Farmeri - Farmer's Dendrobium
Orchids - Anu Dharmani, Editor

Dendrobium farmeri has beautiful and sometimes scented flowers. The stems, also called canes, is uniquely shaped.




Preparing Your Kitchen for Soaping
Soapmaking - Cindy Jones Lantier, Editor

How to prepare your kitchen for safe soap and/or cosmetic making




China Loves British Tea, How Ironic
Tea - Mary Caliendo, Editor

The influx of British tea consumption among the Chinese discussed.




Cleaning Bathroom Exhaust Fans
Cleaning - Tammy Judd, Editor

It is very important to clean and maintain your bathroom exhaust fans. These fans can help prevent mold and mildew from developing if used properly and if properly cleaned and maintained.




Harvest Mantel Pennants
Sewing - Cheryl Ellex, Editor

Draping the colors of autumn on a fireplace mantel evoke the seasonal abundance of harvest time. Sew triangular pennant shapes selecting fabrics in the brilliant golds, yellows, oranges, browns and reds that remind us of the changing colors of leaves and of the season's annual transition from the in


| Google+ |
E D I T O R R E C O M M E N D E D
God Underneath


Spiritual Memoirs of a Catholic Priest, By Edward L. Beck. Each chapter contains a scripture passage and personal tales revealing God's presence in everyday life. Fr. Beck is a member of the Passionist community and travels throughout the country preaching and organizing retreats. I highly recommend this wonderful book and have personally attended several of Fr. Beck's inspiring parish missions.
Math Board Game - Addition - Subtraction - Time


The two-sided game board reinforces addition and telling time on one side and the other side is for the subtraction game. Each game has its own deck of cards, simple to follow instruction sheet, and offers variations for different learning levels, one on one, and team play.
The Simple Way to Invest Successfully


Does investing seem too complex? Are you confused about how to invest successfully? Many people fail to invest well because they make money issues too complex. Many others never get started investing because they don´t understand the basics of stocks, bonds, and mutual funds. Investing doesn´t have to be difficult.