Beauty & Self
Books & Music
Career
Computers
Education
Family
Food & Wine
Health & Fitness
Hobbies & Crafts
Home & Garden
Money
News & Politics
Relationships
Religion & Spirituality
Sports
Travel & Culture
TV & Movies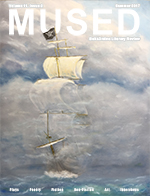 Our time on this Earth is fleeting and precious. We often know that in a vague, intellectual sense, and yet we can find ourselves whittling away those finite minutes without mindful thought. We should celebrate the beauty in a child's smile. The radiant sound of saying "I love you" to that special person. The warm touch of a hand. The delicate scent of a wildflower.

Enjoy the Mused Summer Solstice 2017 Issue



Goan Fish Curry Recipe
Indian Food - Sadhana Ginde, Editor

Seafood plays a huge role in the typical Goan diet. Eating fish at least 1-2 times a week is both healthy & recommended for a heart smart diet. My easy & delicious Goan Fish Curry is full of bold flavors, it's always a big hit with both family & friends :-)




Mary Maxim Sweaters
Knitting - Korie Beth Brown, Ph.D., Editor

Iconic in Canada, the Mary Maxim sweater has an iconic presence. Enjoy some historical facts and observations about the label!




Meditation on the Fly
Yoga - Korie Beth Brown, Editor

While we all aspire to a perfect meditation life, there are days we can't sit still. On these days, even a few moments can make a difference.




Second Week in Tennessee, USA
Romantic Getaways - Marianne de Nazareth, Editor

Maryville is a little town, cradled in the lap of nature




SLIT update
Allergies and Colds - Sheree Welshimer, Editor

Sublingual immunotherapy requires patience and persistence




The Magic of Fragrance
Fragrance - Juliette Samuel, Editor

Worked any magic lately? Every time you cook or spray your favorite scent, you're working magic. Here are a few tips and techniques on what to have in your pantry for those who like to do-it-yourself.


| Google+ |
E D I T O R R E C O M M E N D E D
Original Cat Design Products


From Cafepress - Purchase a wide varity of quality products, from t-shirts to magnets, tote bags to mugs and much more, with this original cat design, created by the editor of the Cats Site.
How to Buy Your Next Car


A true car buying expert explains in detail how to buy your next car. From credit and financing to dealer cost and sales tactics, "How to Buy Your Next Car" is full of insightful information to help you avoid making typical car buying mistakes.
OSTRICH - A Little Book About Lifeīs Ups and Downs


OSTRICH - A Little Book About Lifeīs Ups and Downs is a self-help manual of sorts to help women find their balance and their way through lifeīs many mazes because Life Is What Life Is - Nothing More and Nothing Less... A unique book for women in a rhyming saucy, seussy entertaining style with a New Age attitude. Itīs eclectically styled, wisdom gone wild for a womanīs inner child. By Kate Woods