Beauty & Self
Books & Music
Career
Computers
Education
Family
Food & Wine
Health & Fitness
Hobbies & Crafts
Home & Garden
Money
News & Politics
Relationships
Religion & Spirituality
Sports
Travel & Culture
TV & Movies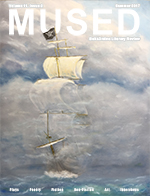 Our time on this Earth is fleeting and precious. We often know that in a vague, intellectual sense, and yet we can find ourselves whittling away those finite minutes without mindful thought. We should celebrate the beauty in a child's smile. The radiant sound of saying "I love you" to that special person. The warm touch of a hand. The delicate scent of a wildflower.

Enjoy the Mused Summer Solstice 2017 Issue



Vegan, vegetarian diet
Allergies and Colds - Sheree Welshimer, Editor

Can following one of these diets help lessen your allergies?




Gluten Free Nut Flour Cookie Recipe
Sandwiches - Connie Mistler Davidson, Editor

Most people don't need gluten free cookies, but those that do can eat these with confidence. There is no gluten here! Don't confuse gluten free with low calorie. Made from nut flour, instead of wheat flour, these high-fat cookies have a lower carb profile than cookies made with flour. Delicious!




The Scented Beauty of Milk Baths
Fragrance - Juliette Samuel, Editor

Herbal blends, sea salt and powdered milk. You got it! The perfect beginning for a soothing milk bath. Indulge yourself with recipes in this article.




The Beauty of Flowers In Skin and Hair Care
Ethnic Beauty - Juliette Samuel, Editor

The power of flowers and how they're used in your daily beauty regimen. From lotions to scrubs to hair rinses, take a look at the flowers that can help in your beauty needs.




Southwest Michigan's Local Food Movement
Senior Travel - Hazel M. Freeman, Editor

Southwest Michigan has a vibrant locovore movement picking up steam. Local grassroots efforts are helping to re-invigorate the agricultural base by supporting local family farms and agri-tourism. Restaurants, cafes, and businesses design menus around what's in season and grown locally.




A Million Nows of Christian Life
Christian Living - Lynne Chapman, Editor

Centuries ago, the Psalmist sang, "I have chosen the way of faithfulness; I set your rules before me." Psalm 119.30 ESV What have I chosen, today?


| Google+ |
E D I T O R R E C O M M E N D E D
Low Carb Charts


A must have reference guide for any low carber. Keep the carb counts of fruits, veggies, meats, alcoholic drinks and more at your fingertips.
Addicted to Stress by Debbie Mandel


A Woman´s 7 Step Program to Reclaim Joy and Spontaneity in Life (Hardcover) In this highly original program for stress reduction, stress management expert and radio personality Debbie Mandel explains that women who are constantly stressed out have forgotten the dreams of the free-spirited girl living inside them before they became somebody's wife, mother, or workplace colleague.
Visual Link Spanish


Spanish language, interactive lessons. You can try 11 lessons for free. I´ve been recommending this course for several years, as I find it very intuitive.