Beauty & Self
Books & Music
Career
Computers
Education
Family
Food & Wine
Health & Fitness
Hobbies & Crafts
Home & Garden
Money
News & Politics
Relationships
Religion & Spirituality
Sports
Travel & Culture
TV & Movies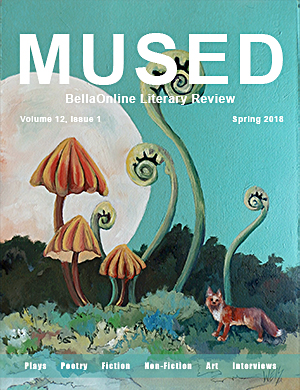 It can seem sometimes as if our world is whirling faster than we can keep up with. It can become overwhelming. Exhausting.

A balm which rejuvenates is to explore the creative efforts of individuals around us. To begin, turn off the noise and clatter of the world at large. Take a deep breath and instead focus on connecting with one fellow human being who presents their jewel of a thought to you. Examine it mindfully. Consider its meaning. Soak in the moment with this one human. Then connect with another. And another.

Enjoy the Mused Spring Equinox 2018 Issue



Does the Nose Really Know?
Fragrance - Juliette Samuel, Editor

n a world where personal preference and perfume choices go hand in hand, it's extremely important that you get what you like. That's the job of a Nose. Learn more about ...




10 Ways To Avoid Gaining Weight On A Cruise
Cruises - Nancy Schretter, Editor

It's easy to gain weight on vacation and the dining options on today's cruise ships are particularly tempting. Cruise vacations don't have to be synonymous with weight gain, though. It's all in how you approach it. If you're trying to avoid weight gain on your cruise, here are ten great tips.




Does Beauty Have An Expiration Date?
Ethnic Beauty - Juliette Samuel, Editor

Beauty plays such an important role in our lives. Do you ever get to the point of thinking you should stop trying to enhance what you have? Shush that noise!




Honolulu, Hawaii History and Culture
Senior Travel - Hazel M. Freeman, Editor

When it comes to sun and surf, few destinations can compete with Honolulu. It's also a great place to explore Hawaii's art, culture, and history. Guest author Janet Collins suggests some things to see and do that have senior-friendly pricing.




University of Central Florida to Run Arecibo Site
Florida - Georgiana Kurtz, Editor

A consortium led by the University of Central Florida has been chosen by the National Science Foundation to run the Arecibo Observatory in Puerto Rico. The site contains the second-largest radio telescope in the world and provides educational and research opportunities for the global community.




Medium Cool Film Review
Drama Movies - Angela K. Peterson, Editor

Haskell Wexler was voted one of the most influential cinematographers in American film. His 1969 directorial debut, "Medium Cool", is a prescient exploration of politics, violence, and the deleterious effects of a post-literate culture on democracy.


| Google+ |
E D I T O R R E C O M M E N D E D
Giada´s Kitchen


In this book each recipe is a burst of taste, colors and combination of flavors; the instructions are really easy to follow for anyone, and the final result of virtually every dish is presented in a beautiful arrangement of photographs.
The 500 World´s Greatest Golf Holes


This is a great coffee table book with photos and narrative describing some of the best golf holes in the world. Makes a great start for your bucket list of golf courses to visit. Published by Golf Magazine.
The Killer Angels by Michael Shaara


Best historical novel ever, and I don´t even like most historical novels. Epic and unforgettably intense! Among other things, reading this will teach you how to hook your readers through writing strong character emotion.